Green, greener, greenest: solar panels for Noviflora
Even in the winter, when the days get shorter and de sun gets weaker, it is still the way to go: solar energy. That's why we are so happy that the moment has finally arrived: Noviflora has her own set of solar panels. With 1.000 of these panels on our roof, our building will be nearly zero energy. Another step closer to creating a greener Noviflora!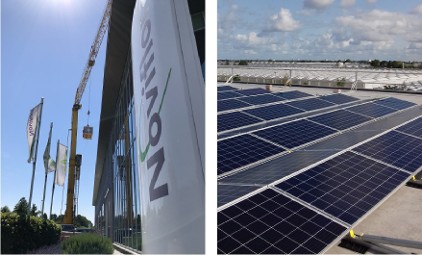 At Noviflora, we've been working hard to minimise our carbon footprint for years. Our efforts range from the smaller aspects of our work (waste sorting, FSC-certified paper, LED-lighting), to far bigger projects. With 1.000 solar panels on our roof, we can harvest about 200.000 kwH of green energy, making our building almost fully zero-energy. As a green company that believes in the power of nature, switching to a natural energy source seemed like a logical next step. Over the next few years, we will keep researching more and even better ways to make our daily activities as sustainable as possible; the greener, the better!