Tesselaar - On The Way to PlanetProof
At H.M. Tesselaar in Heerhugowaard, you'll find the prettiest, colourful Peruvian lilies. Flowers grown with love and care, and in an increasingly sustainable way. H.M. Tesselaar was one of the first floriculture company in the country to be awarded the On The Way to PlanetProof certificate, and the company works hard every day to improve and raise their sustainability standards.
Noviflora had a chat with co-owner Niels Tesselaar about the importance of going green in the floriculture industry.
Hi Niels, tell us a bit about Tesselaar.
My father founded the company in 1977; back then we grew plants like cyclamen, lilies and carnations. These days our focus lies only on growing the best Peruvian lilies. We have our own breeding programme and a location in Kenya. At all of our locations, we try to be as sustainable and eco-friendly as possible, every step of the growing process.


What does that mean for Tesselaar, being as sustainable as possible?
When you start to think of ways to make your business more eco-friendly, it's easy to think: nope, this can't be done, we'll never get there. But you can definitely get it done. We've taken our first steps and planted our flag of ambitions, but the way to get to that flag is a long, long process. We're already combating diseases with as much organic pesticide as possible. In an organic growing system, you can't really use artificial fertiliser, for example, as it will disrupt the system. The more organic fertiliser and compost you use, the better the system will work. It's a choice, a path you take. Nature already has all the answers, we just haven't discovered all of them yet.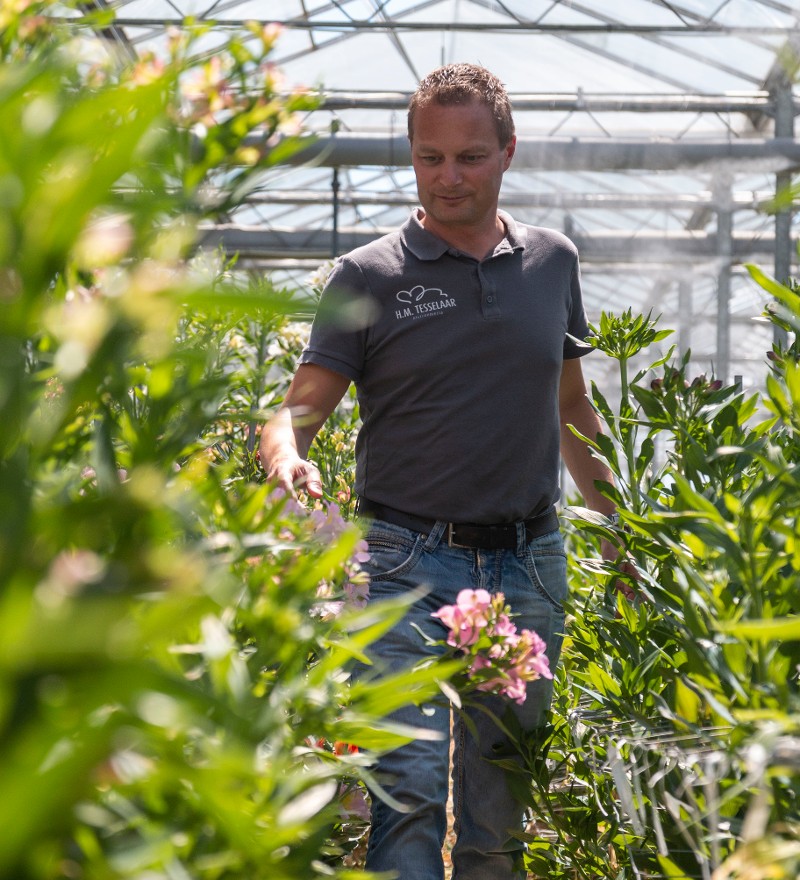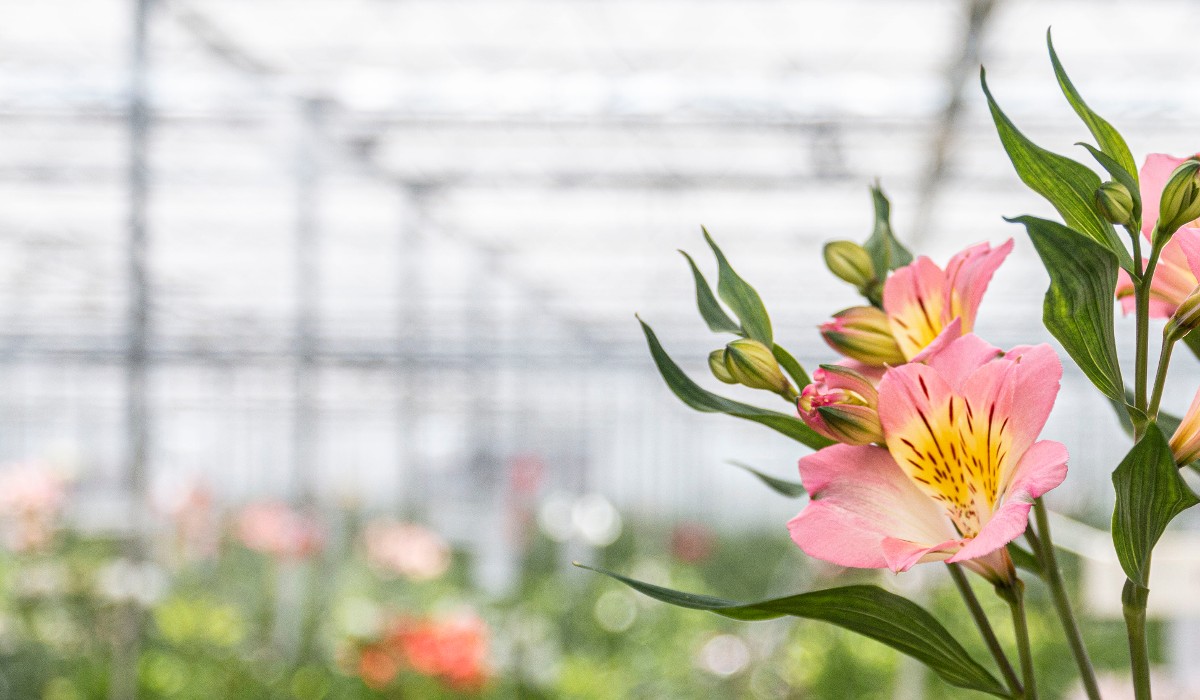 How do you start an organic growing system like that?
We started using organic materials in the soil, and we cover the plants with a cover made from materials found on the forest floor. All these natural interventions help the plant get stronger, and the stronger the plant, the easier it is to use organic pesticides, because that plant doesn't need much help to battle a disease. You can set up this system by growing the strongest plants possible. Parts of our greenhouse are 100% organic already, but not all of them. Although I think we're way past the halfway mark on our journey towards fully sustainable growing.
What other sustainable methods do you apply?
Our newest greenhouse in Heerhugowaard was built with diffuse glass. With normal glass, sunlight shines directly on the flower heads, but with diffuse glass the light is distorted and spread evenly across the plants. You don't need any screens in the summer, the plants don't overheat and grow better, and we can save about 30% energy per stem produced in this greenhouse. We also collect rainwater in our own basins, and in Kenya we built our own dam in the river so that we can have a sustainable water supply even in the dry periods.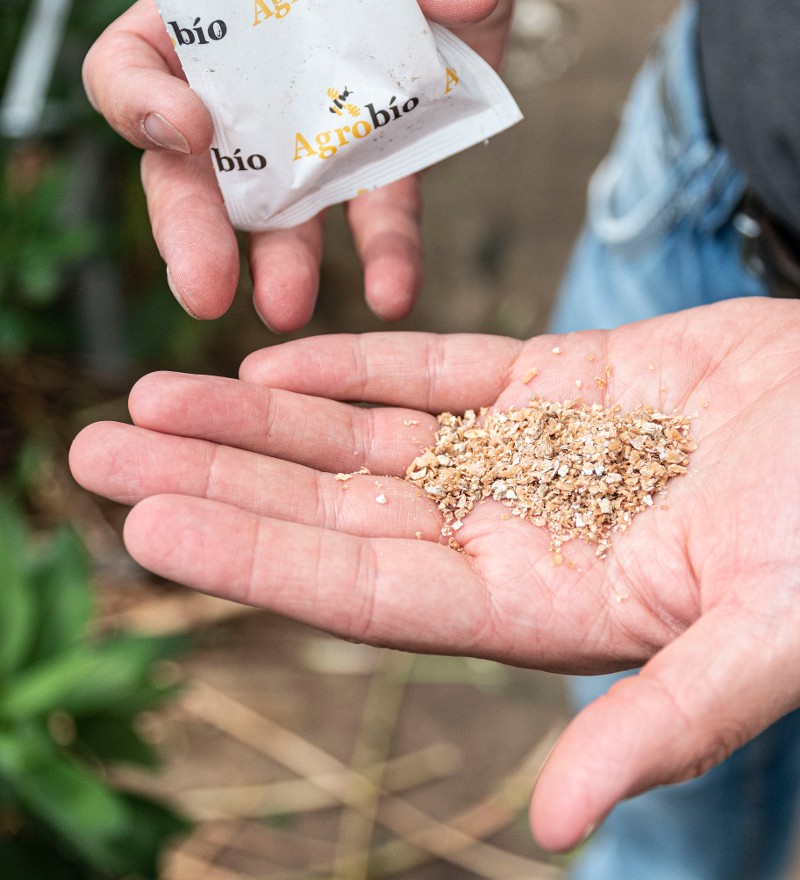 You're doing a lot to make Tesselaar 100% green, why is this important to you?
Flowers are a luxury product, and sooner or later, consumers will stop buying luxury products that aren't sustainable. Consumers are more critical of things like that, as opposed to food, because food is something you need so you'll accept the way its produced for longer. With flowers, we're selling a positive feeling, something pretty, and the critical consumer doesn't want that something pretty to be tainted. And they're right, of course.
What are Tesselaar plans for the future, to be able to serve this new critical consumer?
We've already taken some large steps and leaps lately, so now we're focused on improving and perfecting those new systems. They all seem like small steps, but if you can get rid of a pesticide with every step you take, in the end there won't be any left. That's the point we'd like to reach.
spotlight-products-wrapper-component-1>