Celebrate autumn with ready-made wreaths
The colder months are the perfect wreath season. A piece of art from nature on the front door or in the living room, or what about an edible wreath for the birds outside? And the best part is: you don't have to make them yourself, if you don't feel like it or don't have the time. You can order the wreaths ready-made in all different kinds and sizes, so you can offer a wreath to every type of customer.
Natural, autumn wreaths
The ready-made wreaths in our webshop are made from natural materials like moss, pinecones, and various leaves. For a minimal interior, you can go for a wreath made of dried leaves of the same colour. For those true fall fans, a wreath made from leaves, chestnuts, and decorative gourds is a must-have. Small and subtle or big and outrageous- there's something for everyone.


Edible wreaths
No, we wouldn't recommend eating the decorative fruit wreaths, although they do look lovely in a bright fall interior. With edible wreaths, we mean wreaths made from bird seeds and peanuts, which look great in the garden or on a balcony. The wreaths are a visually pleasing way to attract some wild nature into your garden, and the birds will greatly appreciate the delicious snack.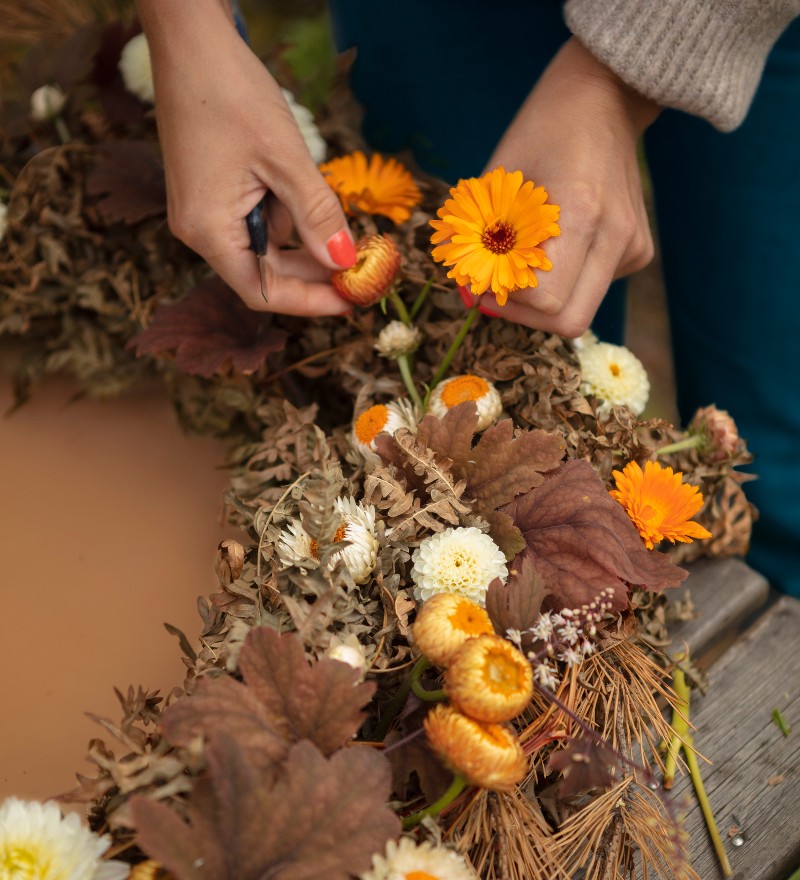 DIY
You don't have to, but if you have the time, you can make some wreaths for your customers yourself. You can find the materials in nature, but to make things easier for you, we've also added a diverse assortment of decorative materials to the web shop. Mosses, oak leaves, pinecones- go take a look. For your wreath's design, you can look to the current folklore and ethnic trends for inspiration. Leaves, but also dried flowers and coloured ribbons are the perfect materials for a folksy wreath. And why not make a wreath from corn husks? The soft, brown leaves fit perfectly with the recent, more natural trends.
spotlight-products-wrapper-component-1>