It's always sunny with the helianthus
Sunflowers simply scream summer. It's a flower that makes pretty much everyone smile, even when the sun's hiding behind the clouds. We're going to spend a day following Cok van Berkel, a purchasing manager at Noviflora. Every day, he keeps track of which growers can supply helianthus in the perfect growth stage.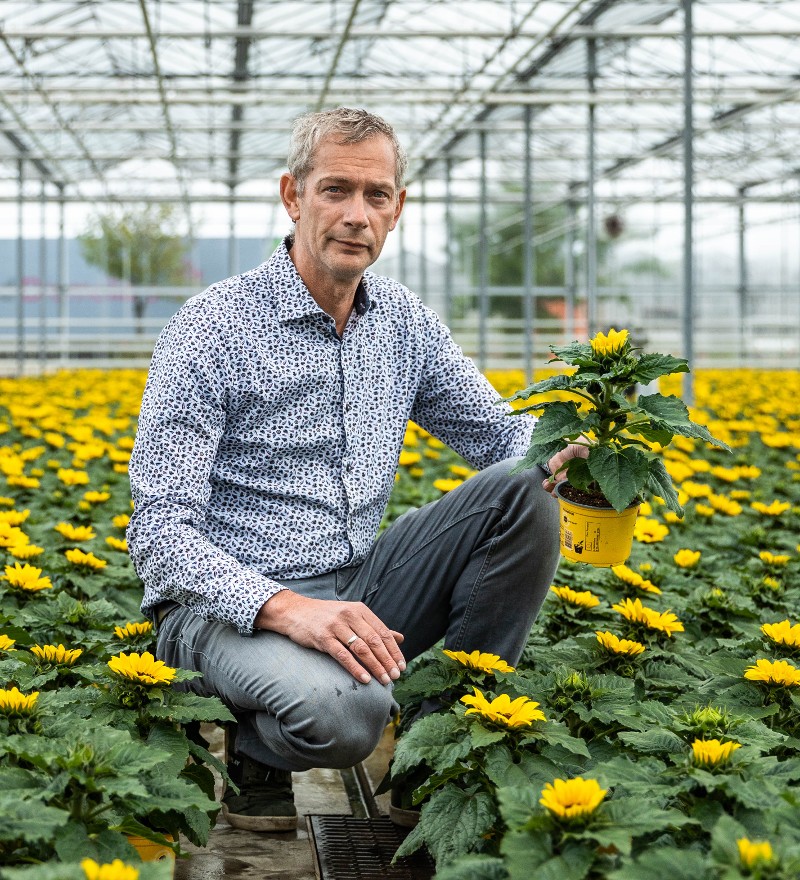 How do you monitor for the perfect stage?
We closely work together with the best growers and have daily contact with them in order to monitor the growth stage of their plants. We also visit the growers' location twice a week to see the crops for ourselves. The plants will only be loaded for transport until they have reached the perfect stage.


What can we expect from a Noviflora helianthus?
"Great, high-quality plants, shipped at exactly the right time. When the plants leave the nursery, their flowers have to still be folded, kind of like the shape of a tulip. If the flowers are in full bloom when they're shipped, they won't last as long, which would be a shame. The right humidity during transport is also very important, sunflowers need lots of water. Our growers use soil that allows the pot to have a little water reservoir, allowing the plants to survive a few days without water during transport."
Do you see any new developments coming from helianthus growers?
"Definitely. There's a helianthus bouquet, which is just a regular helianthus plant except it grows multiple flowers. A real 'bouquet' of sunflowers, right there on your potted plant. We see some new colours being developed as well. The helianthus flame has 'flaming' leaves, the helianthus lime is a lime green colour. Those are meant more for a niche market though, going to specialty shops. Most people still prefer that universally loved, bright yellow sunflower."
spotlight-products-wrapper-component-1>