SV.CO – Just like the bakery, fresh products every day
SV.CO produces an attractive collection of potted plants all year long. They like to compare themselves to a bakery that offers a fresh, colourful and versatile product range every day. Handmade and with a special product for every season or holiday!
They have been growing flowering plants, such as chrysanthemums, since 1978 and use their expertise to produce top-quality products every day. In addition to their vast experience, they consider innovation – whether at product level or in terms of digitisation - to be not only of crucial importance, but also fun. And this enjoyment of innovation cannot be overlooked. Many delicious new creations can regularly be found in their proverbial biscuit tin.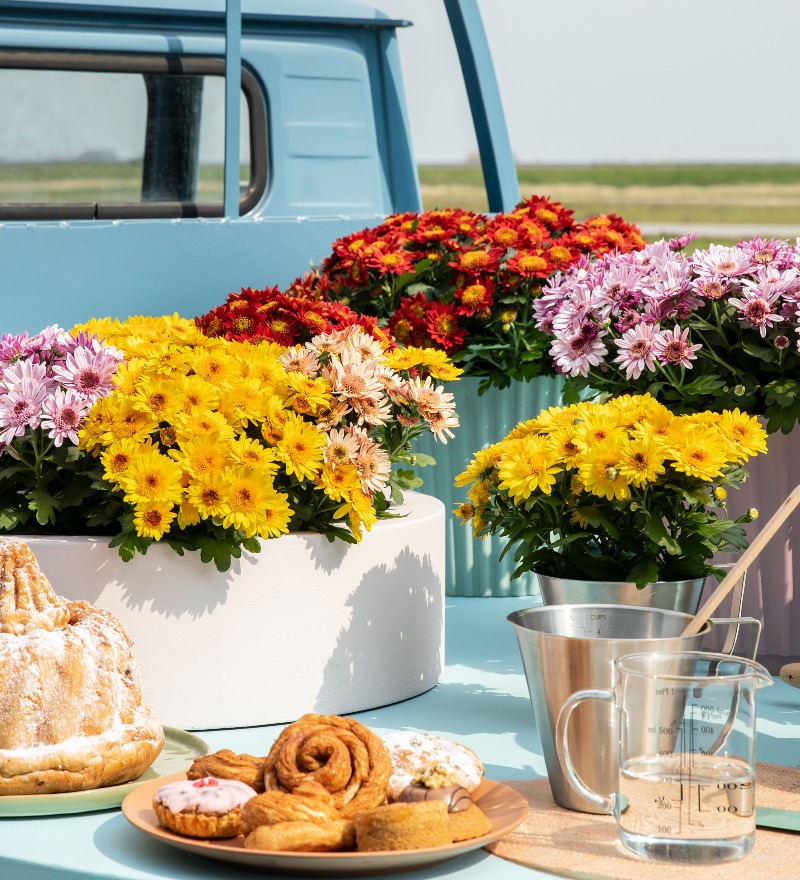 SV.CO introduces new pot chrysanthemum
After years of intensive breeding, Dümmen Orange presents the pot chrysanthemum Suntaste. SV.CO has the exclusive right to grow and sell this sensational innovation. The name of the new variety says it all: 'sun' because the flower has the shape of the sun and 'taste' because of the connection with food that is present in SV.CO's portfolio. A delicious feast for the eyes!
The anemone shaped flower is completely new and unlike anything we have seen before. This new flower type in combination with the incredibly strong genetics of this pot chrysanthemum give a lot of confidence in this product. The new delicacy of SV.CO is available in the colours Yellow, Peach and Pink. Towards autumn, the colour Red will be added.
There are two packaging options available: a cheerful, eye-catching sleeve with the colours of a sunrise and the neutral, sustainable SV.Box. This box, made of recycled material, allows the product to be transported without tray and sleeve, especially for the end customer who presents the products without sleeve. The name Suntaste: 'Sun' because of the flower that has the shape of the sun and 'taste' because of the link with food; a new taste!