Dahlia – Here to steal the show
An amazing flower that fairly earned its popularity back. There are tons of reasons to love dahlias. One of them is their big, beautiful bloom!
A flower with endless options… This show-off is available in a wide variety of colours. From white to light yellow, salmon pink, orange, purple, red, brightly pink, bordeaux and even bright red. Single-coloured or multi-coloured with splashes and stripes. Additionally, there is a wide choice in shape of the flower petals, they can differ from round to sprigs and elegantly curled. And like there aren't choices enough, they can vary in size, from smaller adorable ones to huge blooms. People compare the big ones to dinner plates, since it could bloom to be as large as dinnerware. Which is why a solo dahlia could be used as an eye-catcher in a bouquet, but different colours and forms of dahlia's can also be mixed resulting in beautiful flower arrangement.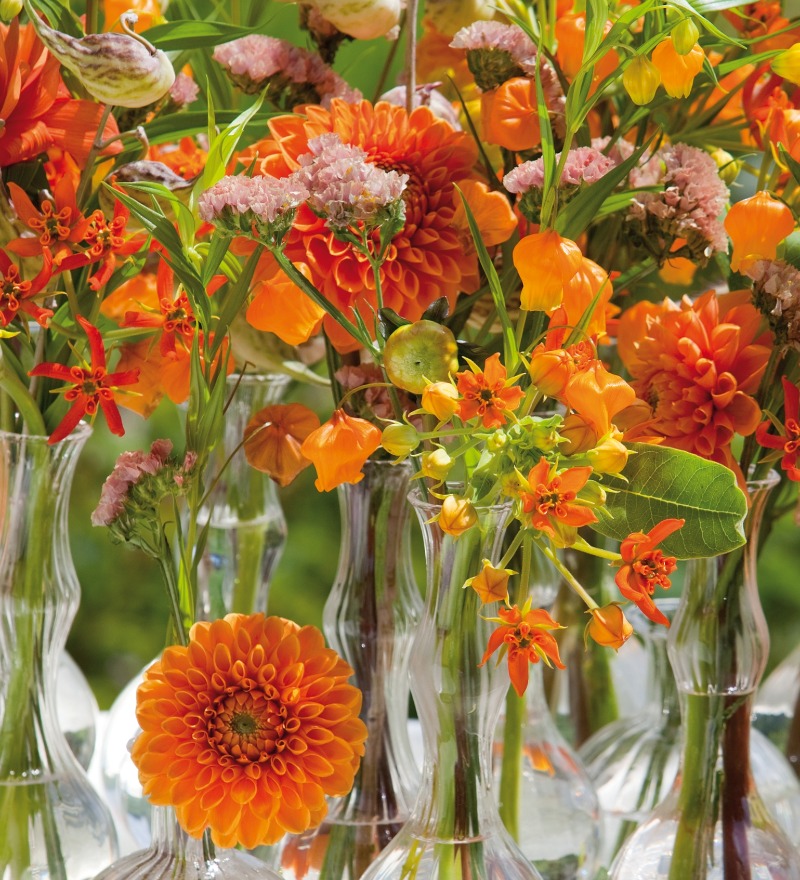 This flower is perfect to steal the show in a wedding bouquet. A flower that's got it all: floral style, colour and a rich symbolism. It means 'forever yours', which is exactly what the hearts of the bride and groom want to scream from the highest mountains! Having dahlias on a wedding day will transform everything into one big party; put a few flowers as decoration on a plate or plain cake or attach them to chairs for a floral feeling.
Besides cut flowers, imagine having a flower bed of these extravagant dahlias in the garden… With colourful dahlia plants in the garden, this summer promises to be exuberant! Place all different kinds together in a border or in a balcony tray and enjoy a sea of stunning dahlias. With a little care they could flower from July till October. Create a picking garden, so your customer's vases are foreseen all season with freshly cut dahlias. This actually allows the plant to produce more flowers.
As you can read, plenty of choices to bright up the indoor and outdoor living spaces. Check out our dahlia assortment here.