Opti-flor – Creativity is essential
Opti-flor's orchids are surrounded by the best care, attention and craftsmanship during cultivation. The aim is to produce plants of perfect quality and exclusive character. Opti-flor exists for over 90 years and has a continuous drive to innovate, with creativity at the top of the list.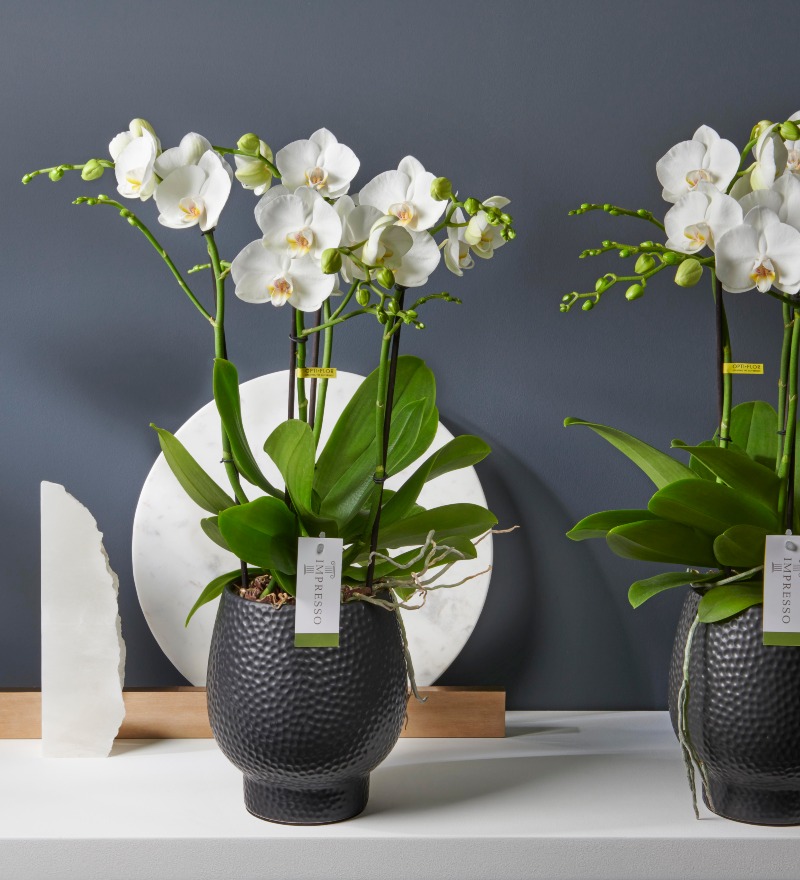 Impresso
Developing a new product line takes years of time and effort, as is the case with Opti-flor. Fortunately, this was a great success when they released their new orchid Impresso. This orchid consists of 2 plants in a 15cm pot and creates a huge splendour of flowers. Impresso is an absolute eye-catcher and available in white, purple and dusty rose. Impresso is also available in combination with a unique watering system, AQUO ceramic. This allows the plant to provide for its own water needs and results in a perfect growth and blossoming.
Sustainability
The premise of Opti-flor is to grow the most exceptional orchids as sustainably as possible, without compromising on quality. This grower now uses only 40% of the natural gas consumed in 2013, they have their own geothermal heat source and only LED lighting is used nowadays. Opti-flor has over 4000 solar panels, making them self-sufficient in the energy needed to cool their plants. Meanwhile, their outstanding dedication to orchids and attention to people and the environment is annually rewarded with the MPS certificate, which shows that this grower meets the highest requirements in terms of quality assurance, traceability, environment and social (working) conditions.