Creative with the poinsettia
Natural living is a trend. Interior design has embraced plants and natural materials as home accessories, creating a friendly, cosy atmosphere. At Christmas, the poinsettia is already the star of the show, but this year we want to make it shine even brighter with our inspiration. Let's take a look!
Dining in nature
A feast for the senses, this opulent table centpiece made from a wealth of natural materials is a vibrant, showstopping creation for a festive Christmas table. On a thick layer of moss, red mini poinsettias are placed next to mini fir trees and succulents. Sprigs of holly, crab apples, cones and gold-sprayed foliage add decorative accents, while dark red taper candles provide atmospheric lighting.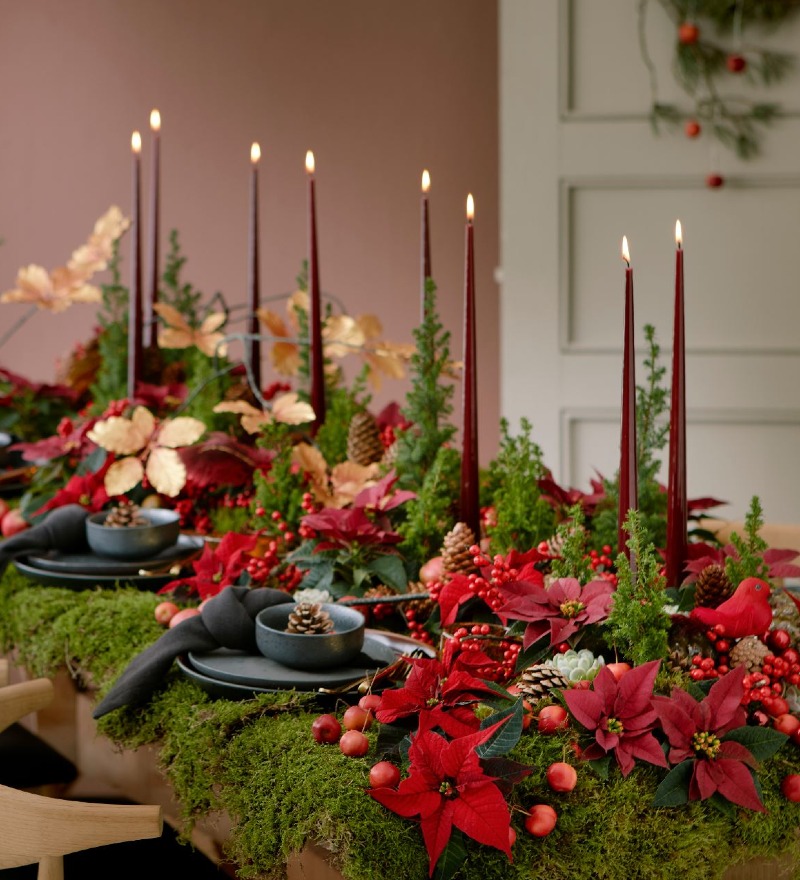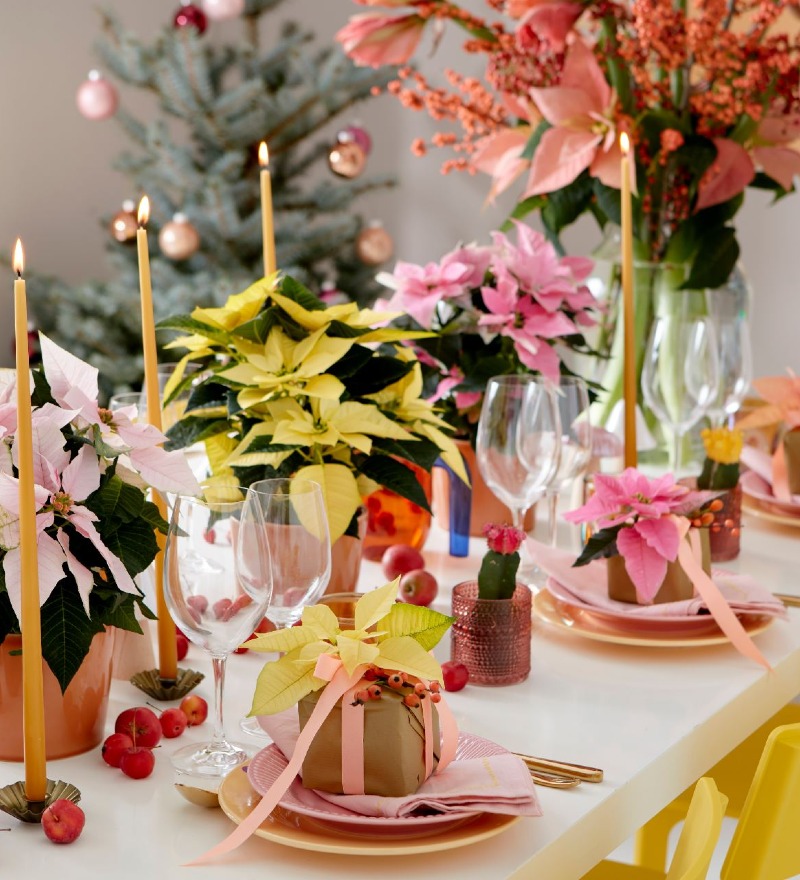 Candy Colour Christmas
Fresh, cheerful, colourful: soft pastel shades give this Christmas table a light, relaxed look, despite the lavish decor. Poinsettias in pink, yellow and apricot provide a vibrant focal point and, as potted or cut flowers, they add a touch of festive flair. The other accessories and furnishings, from chairs to tableware, candles and napkins, to the baubles on the tree, echo the shades of the star-like poinsettias, creating a harmonious look. The limited use of stronger hues and the gold cutlery add on-trend accents.
Understated at Christmas
This tasteful advent wreath of white poinsettias, poppy heads, larch branches and lunaria (Honesty) is both elegant and natural. With a little skill, you can make it yourself. As well as the floral materials above, you will need two different-sized straw wreath frames, wooden skewers, wreath wrap tape, dried water hyacinth leaves, mossing pins, candleholders and pillar candles, as well as a suitable planter and a shallow bowl or plate to place them on. Let's get creative!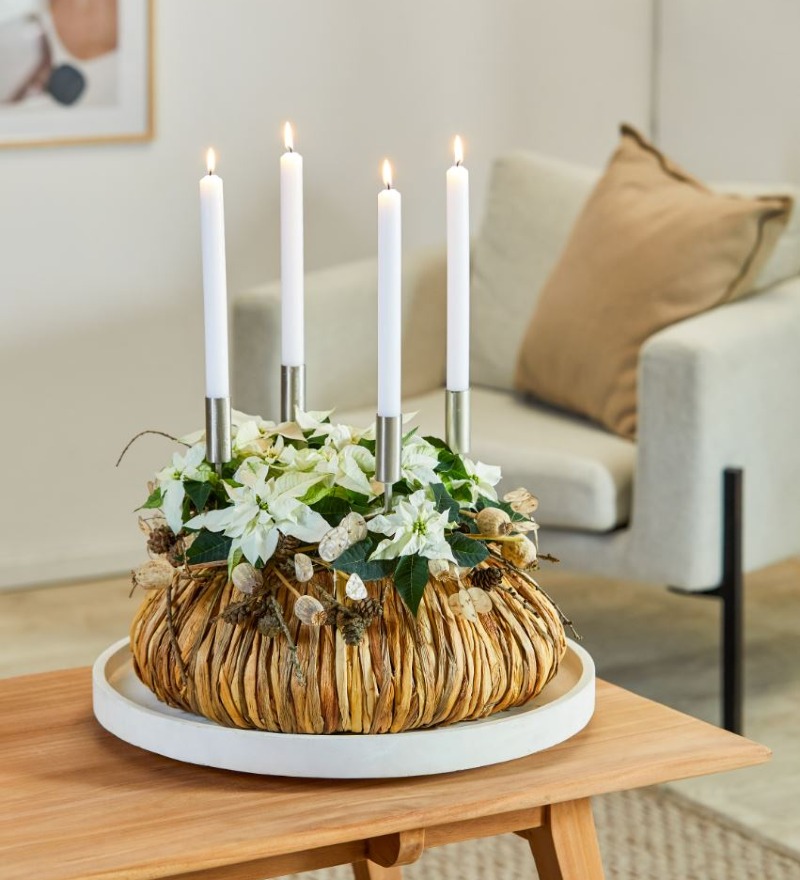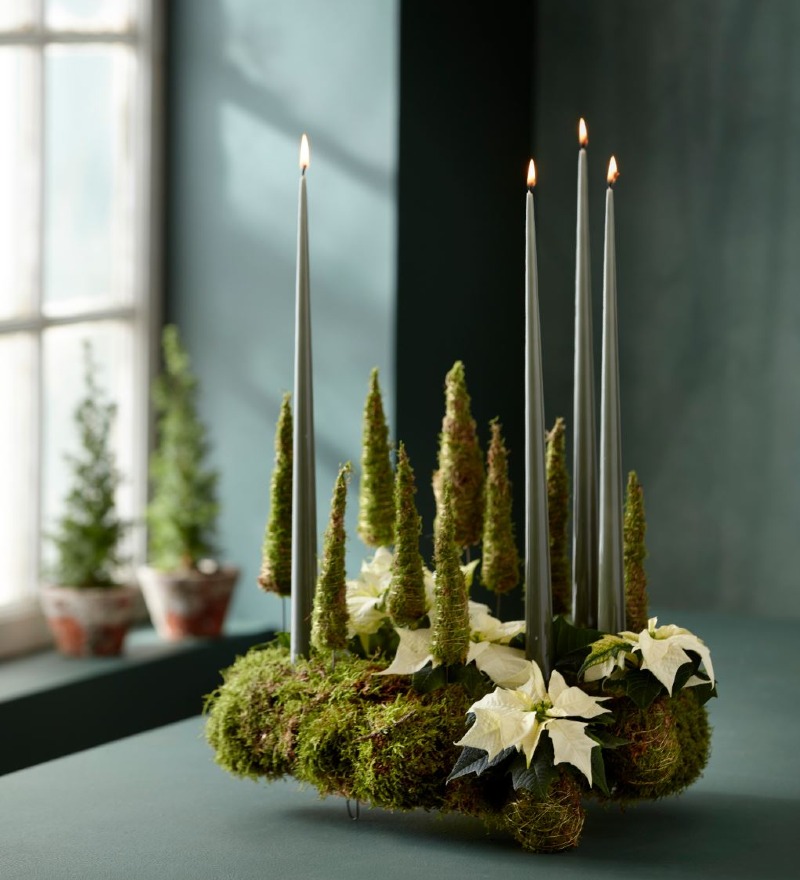 Christmas Woodland
This tasteful Advent wreath is both artistic and natural. Delicate moss fir trees and cream mini poinsettias create the impression of a wintry pine forest on the moss-wrapped straw wreath frame. The wreath stands on sturdy wire feet so it appears to float above the table. The root balls of poinsettias are wrapped with moss, secured with fine wire. With this, you literally bring the forest inside!
Christmas Blush
Natural display with a romantic touch: this floating decoration is a space-saving alternative to the classic Christmas wreath. The base is a straw wreath covered with moss and privet berrries, wired together with long pine branches and decorative lichen-covered branches. The cut pink poinsettias are placed in flower tubes filled with water.